We recommend a 3 night stay combined with tour 1 & 2 (note particular days of the week these tours depart). If you are feeling more adventurous add on a helicopter tour or mix and match our road-based and air-based tours for an unforgettable once-in-a-lifetime outback experience. As all our tours book out early please make sure you book your preferred tours when booking accommodation. To enjoy and make the most out of all activities we recommend guests have a reasonable level of physical fitness and mobility. Please note there are uneven and rough surfaces on many tours, steps and other obstacles that come with the natural landscape. Please consider this when making your booking.
Check-in 2pm, Check-out 10am
Flying to Longreach is the easiest way to get to Rangelands. QantasLink operates DAILY flights from Brisbane to Longreach & Longreach to Brisbane. Every Tuesday & Thursday REX (Regional Express) operate connecting flights from Longreach to Winton & Winton to Longreach making for convenient travel. (We operate a complimentary pickup service from Winton Airport).
If you have more time, you could extend your stay with us to incorporate a day excursion to Longreach to take in "The Stockman's Hall of Fame" + "Qantas Founders Museum". Ask us for more details. Please make sure you let us know how you are arriving so we can arrange transport to Rangelands Outback Camp.
Exclusions
Flights, Tours, travel insurance (recommended), personal expenses, optional activities/tours and tips.
Age Restrictions
Guests must be over 12 years of age unless otherwise agreed by our management team.
Travel Insurance
The remote nature of Rangelands Outback Camp makes it an ideal outback holiday experience. However due to the accessibility of the property and the experiences it offers we highly recommend purchasing travel insurance prior to travelling. Please take the time to review your insurance policy to ensure you are covered in the unlikely event your travel plans are disrupted due to extreme weather conditions, by acts of God or Covid regulations.
Climate
From March to November the climate at Rangelands Outback Camp offers dry, warm to hot days and cooler mornings & evenings. During this time of the year it rarely rains with on average only 1 – 2 days per month. The winter months of June to August see mean temperatures during the day between 21 – 28 degrees Celsius and overnight lows averaging around 8 – 10 degrees Celsius. As we are in the desert region temperatures can on occasion drop near 0 degrees Celsius however this is relatively rare, it is not uncommon for morning temperatures to be around 5 degrees Celsius. From April to May and from September to October guests can expect warmer temperatures, hovering around 29 – 38 degrees Celsius and beyond during the day and 13 – 17 degrees Celsius overnight. The camp has seasonal closure during the hotter months October to April.
What to Bring
Whilst the Camp and surrounds are designed to provide a taste of outback luxury, the day-to-day activities are designed to offer an authentic and busy outback experience. Guests are encouraged to bring relaxed, casual wear for the day. Light, loose clothing including trousers, lightweight collared long sleeve shirt, wide-brimmed hat (and optional fly veil), sturdy closed-in shoes and light hiking boots are recommended if you intend to participate in walks and other outdoor activities. Relaxed smart casual wear for dinner at the Camp is also encouraged. During the winter months you will need suitable warm to very warm clothes and multiple layering for night-time and early mornings. We encourage all guests to pack using soft bags rather than hard suitcases where possible. If you intend on using our helicopter or light aircraft transfer service we ask that you limit baggage to no more than 15kg per person.
There is limited access to mobile phone reception at Rangelands Outback Camp. There is ONLY a Telstra 3G/4G service available in most locations within the camp.
If you happen to forget something including prescription medications, there is a pharmacy and general stores located in the Winton Township only 15 minutes by road from Rangelands Outback Camp. Medical services including an Hospital and Ambulance are also located in Winton. If you have any food allergies, preferences, or medical conditions that we should be aware of please let us know in advance.
Please note if bringing your own toiletries, we are in an environment that we care dearly about and strongly encourage the use of fully natural and biodegradable products which we supply – please feel free to leave your shampoos, conditioners and body wash at home. We have a limited supply of water and ask you to be water-wise and aware of the way we treat our land and our remote location.
Dietary Requirements
In most cases Rangelands can cater for special dietary requirements but please note that on occasion this may not be possible due to location, lack of availability of ingredients and other extenuating circumstances. It is always advised to carry supplies with you. Any dietary requirements must be received by Rangelands at least 14 days prior to your scheduled arrival date. Failure to provide these details by this date may result in an inability to cater for your requirements.
Other Important Notes
As we are located on top of a jump-up we ask that all guests strictly remain on the marked tracks and under no circumstances leave these tracks unless accompanied by a staff member. In line with our environmental policy, all accommodation tents are off-grid and powered by a solar-battery system. Although there is household 240v power available in each tent we do ask our guests to be mindful that the supply is limited by battery storage.
Itinerary Amendments & Changes
Occasionally our itineraries are updated prior to your arrival to incorporate improvements stemming from past travellers' feedback as well as updates from our ground operators. Please note that while we operate successful tours in this region throughout the year, some changes may be necessary due to inclement weather, public holidays, common seasonal changes to timetables and transport routes and unforeseen circumstances. This can happen with little notice so please be prepared for modifications to the route. The order and timing of included activities may also vary from time to time. As you will appreciate – we are "way out west".
Pricing & GST
All pricings shown in our packages, rates and tours are in AUD$ and include GST.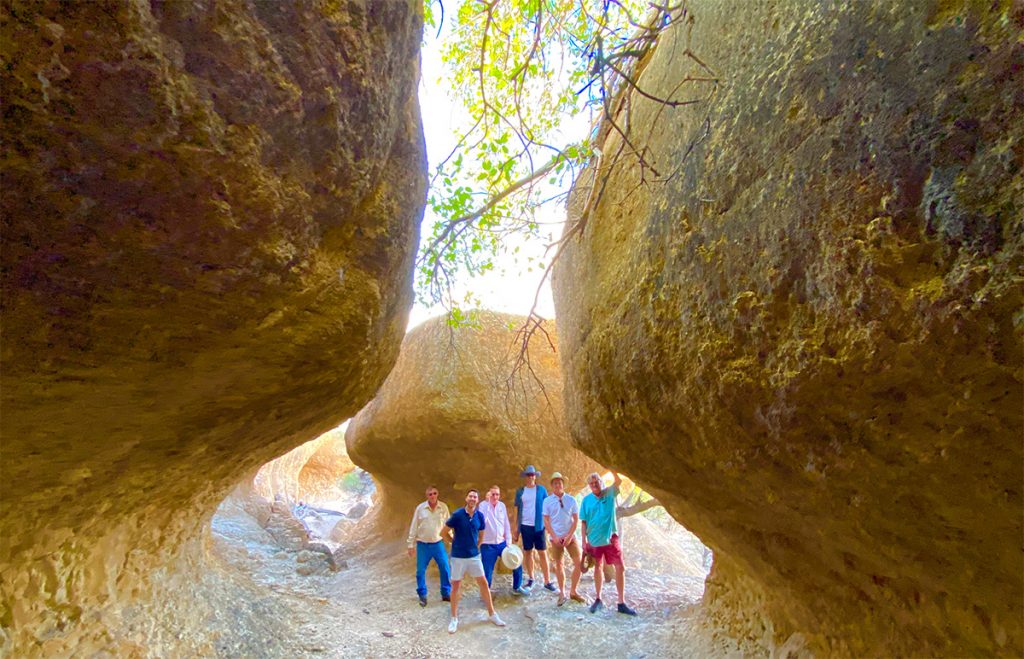 Phone:
0411 884 499
+61 411 884 499